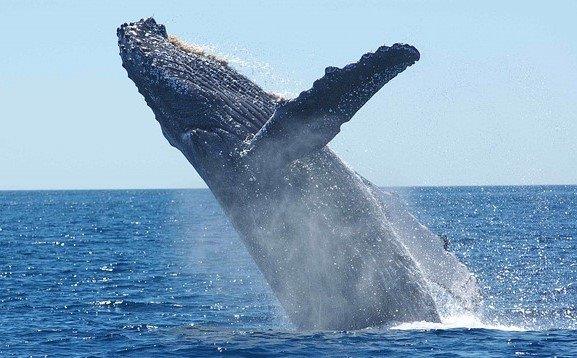 September 17th, 2019
5 Best Places For Whale Watching In Rarotonga
Seeing the power and majesty of whales, whether from a boat or the shore, is a rare experience you'll never forget. In the Cook Islands, we are blessed with whale watching from July to October every year (depending on ocean currents and water temperatures). Some tourists visit specifically to see the whales, while others get the surprise of their lives sitting having breakfast when they see a mighty whale breach just behind the coral reef!
Over fifteen different types of whales have been spotted passing through our wonderful whale sanctuary, but the most common are Humpback Whales as they migrate north into South Pacific waters from their summer feeding grounds around southern Australia, New Zealand and Antarctica. These amazing creatures pass through the Cook Islands as part of an incredible 6,000 kilometre journey to warmer waters to give birth.
We love when the whales return, they are an important part of the culture, history and spiritual life of all Cook Islanders. If you are planning to visit the Cooks between July and October, then check our five best places for whale watching on Rarotonga:
Cook Islands Game Fishing Club. This is a great locals bar in the evening with popular local music and sports matches on the TV, but its also known for being a great place to spot whales breaching as they pass by. Whales might be seen for 5 or 10 minutes, but if they decide to hang around off the reef then word quickly gets out and local Cook Islanders come to watch them.

Trader Jacks. Trader Jacks is probably our most famous bar and restaurant and a great place to enjoy a cocktail or meal as you hope to see whales passing. The reef is not far to the north and while you wait you can enjoy watching vaka paddlers and boats coming in and out of Avarua Harbour.

Black Rock. Black Rock is a great viewpoint for whales as it gives you a high vantage point so you can see whales approaching from a distance, and because its a natural landmark and not a venue, it's free to watch them without needing to buy a drink or meal. When the whales are near you'll often find a group of tourists on scooters pulled over to the side of the road, this is a good clue to pull over and join them.

Edgewater Resort. The reef on the north western side of Rarotonga comes in close to the resort and the restaurant faces the ocean. Guests can be surprised at any time of day or night to be having a meal or drink and see whales breaching. The restaurant staff see whales all the time so if you are staying there ask them for tips such as the time of day there are the most sightings.

Aroa Beach. On the south-western side of the island Aroa Beach is just where the lagoon begins to widen into what will further south become Muri Lagoon. Locals often see whales here coming in close to the reef then heading north staying in close all the way up to Black Rock. There are plenty of people here staying at the Rarotongan Beach Resort so word gets round fast if whales are seen.
A number of charter boats in Rarotonga will get you out whale watching, but if you don't want to get out on the water then grab your binoculars and camera, rent a scooter or convertible from one of our handy locations, and check out our five best whale watching locations!