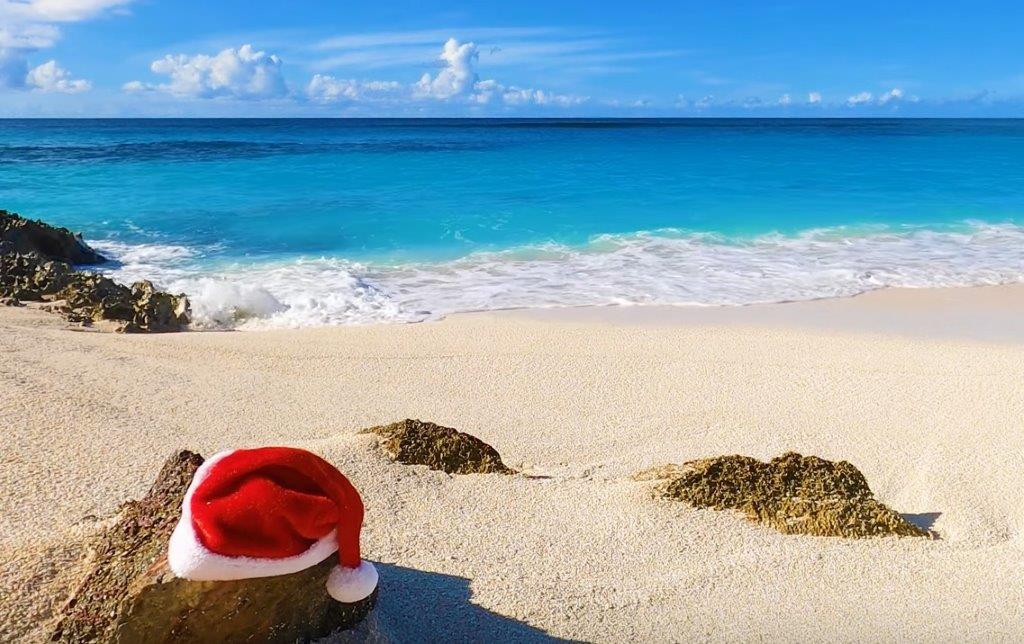 November 10th, 2023
Best Tropical Vacations For Christmas – Why Choose Rarotonga
Rarotonga in the Cook Islands is one of the best destinations for a tropical vacation for Christmas. While people in lots of places around the world may be bundling up in layers of woolly scarves and sipping hot cocoa by the fireplace, why not trade in snowflakes for sandcastles and jingle bells for the gentle lull of the ocean waves. Welcome to Christmas in a quiet tropical paradise – where palm trees replace pine trees, and Santa might arrive in a vaka (canoe) over the water.
As the festive season approaches, here are our top reasons why Rarotonga is so great for a Christmas vacation.
1. Tropical Timelessness: Christmas on "Island Time"
In Rarotonga, time seems to slow down to match the laid-back rhythm of the island. While the rest of the world might be caught up in the hustle and bustle of last-minute shopping and holiday stress, Rarotonga invites you to experience Christmas on "island time." Imagine waking up on Christmas morning to the gentle rustle of palm leaves and the soft murmur of the Pacific waves.
The absence of hectic schedules and the constant rush allows for a truly relaxing holiday. Instead of rushing through crowded malls, you can meander through our local markets, picking up unique handmade crafts and tasty delights. Forget about fighting for the last-minute holiday deals – in Rarotonga, the real gift is the luxury of time, spent savouring every moment in this tranquil tropical haven. This is made even better at Christmas because its not the peak tourist season so you might even be able to find a beach all to yourself.
2. Sun, Sea, and Sandy Toes: Christmas in Jandals (Flip-Flops)
Dreaming of a white Christmas? In Rarotonga, the "white" comes from our pristine sandy beaches that stretch as far as the eye can see. Trade in snow boots for jandals and build sandcastles instead of snowmen. Christmas morning can be spent with your toes in the warm sand, gazing out at the turquoise waters of the lagoon.
Take a dip in the crystal-clear ocean, where the temperature means you can spend all day surrounded by tropical fish like the sparkling lights on a Christmas tree. Snorkel among vibrant coral reefs, exploring an underwater wonderland that rivals the magic of Santa's workshop. Rarotonga offers a tropical twist on the traditional holiday, where the only ice you'll encounter is in your cocktail.
3. Culture Meets Christmas: Embracing Cook Islands Traditions
Rarotonga is not just a beach paradise; it's a cultural tapestry woven with the vibrant traditions of the Cook Islands and wider Polynesia. Experience a Christmas infused with Polynesian flair, where the island's rich cultural heritage comes alive through music, dance, and local festivities. Attend a traditional island feast known as an "umu," where food is cooked underground in an earth oven, creating a mouth-watering feast that captures the essence of Cook Islands cuisine. All the main hotels and resorts offer delicious banquets at this time of year.
Join in on a local church service, where hymns are sung in our Maori language and the spirit of community and togetherness is joyful. You will never forget this experience, made even more special at Christmas. The Cook Islands are renowned for their warm hospitality, and during the holiday season, that warmth is extended to visitors, making you feel like a part of the island family. Embrace the culture, learn the island dances, and let the spirit of Rarotonga infuse your Christmas with a unique and unforgettable charm.
4. Eco-Friendly Escapades: Celebrate Christmas with Nature
For those who crave an eco-conscious Christmas, Rarotonga offers an ideal destination. Our island is committed to sustainable tourism and preserving its natural beauty. Imagine celebrating Christmas surrounded by lush tropical rainforests, where hikes through the verdant interior lead to breath-taking viewpoints offering panoramic vistas of the Pacific.
Engage in eco-friendly activities like guided nature walks, bird watching, mountain biking, stand-up paddle boarding, and exploring the island's ecological reserves. Rarotonga's commitment to environmental conservation provides a guilt-free escape for those who want to celebrate the season without leaving a heavy ecological footprint. Give the gift of appreciation to Mother Nature by choosing a Christmas vacation that harmonizes with the environment.
5. Sensational Sunsets: Toasting Tropical Tranquility
As the sun sets on Christmas Day in Rarotonga, prepare to witness a spectacle that rivals any festive light display. The sky transforms into a canvas of warm hues – pinks, oranges, and purples – creating a stunning backdrop for your holiday celebrations. Gather on the beach with loved ones, raise a glass to thank the ancestors and toast to the serenity of a tropical Christmas.
Whether you're enjoying a beachfront barbecue, taking a sunset cruise, or simply strolling along the shoreline, Rarotonga's sunsets are a daily reminder of the beauty and tranquility that define this Pacific paradise.
Rarotonga, with its blend of tropical beauty, cultural richness, and laid-back charm, is the ideal destination for a Christmas vacation like no other. Escape the ordinary and unwrap the gift of an island paradise, where the spirit of the season is infused with warmth and authenticity. The airlines often put on more flights for locals coming home, and some of the resorts offer Xmas specials since it is not the peak tourist season. And of course there is no better way to see the island on your Christmas holiday than from a nice breezy convertible rental car, so get in touch.