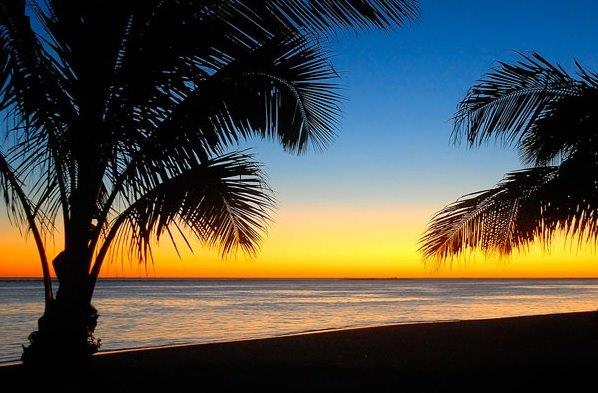 July 31st, 2019
The 5 Best Reasons To Visit Rarotonga
Many of our overseas customers come back to Rarotonga again and again, for the simple reason that there is no place in the world like the Cook Islands. Here are five of our best reasons for visiting Rarotonga:
1 – Size. With one of our rental cars or scooters you can get around the whole island of Rarotonga in less than an hour. It's easy to navigate, there are only two roads going around the island, and the speed limit is just 50 kms an hour (30 miles per hr). Yet within this small area you have coral reefs to explore, restaurants, bars, resorts and lots of fun day and night activities.
2 – Weather. Everyone loves a sunny holiday where you can relax on a golden beach and swim in warm water. When it's cold and wet in Australia and New Zealand, its warm here, and when its cold in Europe, USA and the rest of the northern hemisphere, its even warmer here! In our 'winter season' from May through August the average temperature is about 25 °C (77 °F) and then around Christmas its even hotter with warmer water to enjoy.
3 - Tropical Beaches and Lagoons. The island of Rarotonga is almost completely encircled by a coral reef, creating a lagoon of clear turquoise waters and soft white coral sand beaches. There are amazing places to snorkel like Fruits of Rarotonga, fun water sports in beautiful Muri Lagoon, and other gorgeous beaches to watch a sunrise or a sunset.
4 – Friendly Locals. As Cook Islanders, we pride ourselves on our warm welcoming hospitality and our positive outlook on life. Whilst tourism is important to our local community and economy, our slice of paradise has not become over-commercialised. Our locals are genuinely friendly and helpful, but not pushy or quick to try and exploit tourists as can happen in some other destinations.
5 – Easy Travel. Air New Zealand, Jetstar, Virgin Australia and Air Tahiti fly regularly from Los Angeles, Auckland, Sydney and Tahiti. Every few months there are amazing discounted flight specials, and a number of our popular resorts such as the Edgewater offer special packages that can be booked direct or through a travel website or travel agent. It's an easy four hour flight between Auckland and the Cook Islands (even quicker on the way back!) Sydney is only six hours and we are nine hours from Los Angeles. If you watch out for deals you can get flights for just a few hundred dollars.
Now that you've seen our great reasons to visit Rarotonga, get online, do some research and start planning your dream trip here. Remember to book ahead with Polynesian Rentals to secure your transport on the island, and check our latest hot rental deals. We have rental cars of all sizes and scooters for the more adventurous. If you have any queries get in touch with our friendly team.