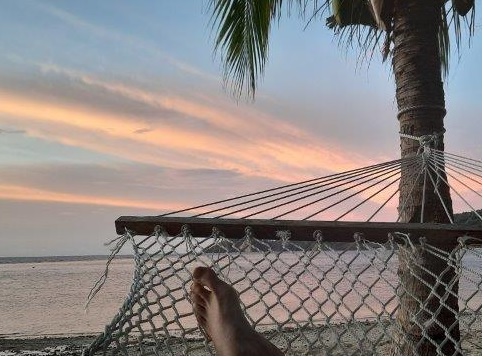 March 31st, 2023
What To Pack For A Vacation On A Tropical Island
Ah, the tropical island vacation. The sound of waves crashing against the shore, the feel of warm sand between your toes, and the taste of a refreshing cocktail in your hand. But before you can fully immerse yourself in a tropical paradise, you need to make sure you've packed everything you need for your trip.
So, what are the most important things to pack for a vacation on a tropical island? Whether you are coming to our own special paradise of the Cook Islands, or somewhere else in the Pacific, Caribbean or Asia, there are certain things you don't want to forget for the tropics. Let's dive in.
1. Sunscreen
Check what level of sunscreen protection you need and buy it in advance. Depending on the season and also the part of the world, you might need SPF 50 or more. The last thing you want is to spend your entire holiday looking like a lobster because you didn't protect your skin from the sun's harmful rays. Make sure you bring a sunscreen with an SPF of at least 30, and don't forget to reapply every few hours. If you or your family are vulnerable to UV rays then bring a rash-shirt too.
2. Swimsuit
Another obvious one, but still worth mentioning as more than one Mum has left it behind in the rush to get her husband and kids organised. You're going to a tropical island, which means you're going to want to spend a lot of time in the water. Whether you prefer a one-piece or a bikini, board-shorts or budgie-smugglers, make sure you pack a swimsuit that makes you feel comfortable and confident, and that you can use for snorkelling and water sports if you need to.
3. Bug spray
Unfortunately, tropical islands are also home to a lot of bugs. Mosquitoes, in particular, can be a real nuisance, and their bites can even make you sick in some parts of the world. Make sure you bring a good bug spray to keep them away, and citronella candles can make a big difference if you want to sit outside in the evenings too.
4. Hat
Not only does a hat look cute and fashionable, but it's also an important way to protect your face and scalp from the sun. A wide-brimmed hat is a great choice, as it will provide shade for your face and neck. If you are going on boats or jet skis then make sure your hat has a strap or tie to hold it on.
5. Sunglasses
Not only do sunglasses protect your eyes from the sun's harmful UV rays, but they also look cool. Plus, they're a great way to hide any signs of jet lag or a late night out.
6. Light, breathable clothing
Tropical islands are hot and humid, so you're going to want to pack clothing that's lightweight and breathable. Cotton and linen are great choices, as they'll help keep you cool and comfortable; and they can dry quickly too if you get them wet.
7. Sandals or Jandals or Thongs or Flip Flops
While you may want to pack a pair of sneakers or hiking boots for any outdoor adventures, you're also going to want to bring a pair of sandals or jandals for the beach and pool. Make sure they're comfortable and won't rub or irritate your feet. If you are buying a pair for your trip then be sure to get them a few weeks earlier and use them at home to wear them in.
8. Reusable water bottle
Staying hydrated is important, especially when you're spending a lot of time in the sun. Bring a reusable water bottle so you can refill it throughout the day and avoid buying disposable plastic bottles. In some tropical islands the recycling might not be as good as hoped, so bringing your own bottle is a great environmental choice. Remember to keep it clean too as microscopic bugs love warm water!
9. A good book
Vacations are a great time to relax and unwind, and there's nothing like getting lost in a good book. Whether you prefer a thrilling novel or a light-hearted beach read, make sure you pack a book (or two) to enjoy during your downtime. Books on a beach are the perfect digital detox.
10. First aid kit
While you're hopefully not planning on getting injured or sick during your vacation, accidents happen. Make sure you pack a basic first aid kit with essentials like band-aids, antiseptic, and pain relievers.
11. Portable charger
You're likely going to be taking a lot of pictures, using your phone for navigation, and keeping in touch with loved ones back home. Make sure you bring a portable charger so you can keep your devices charged throughout the day no matter where you are.
12. Beach bag
You're going to need something to carry all of your beach stuff in! You could be visiting a market or taking snorkelling gear to the best part of the reef. Whether you prefer a small backpack or an over-shoulder bag, be sure to bring something big enough that is comfortable too.
13. Beach towel or sarong
Don't take it for granted that your resort or hotel will have beach towels. Some places only have towels for indoor use and the last thing you want is to have to catch a bus into the shops to buy a towel for the beach.
14. Travel clothesline
Depending on your accommodations, you might not have anywhere to dry your towel, swimsuit or any clothes that need it. Draping things over chairs is not the best solution and if you hang clothing over your balcony you risk having them fall off or be stolen. Grab a cheap travel clothesline – they don't take up much space and you won't regret it.
15. Snorkel & Mask
While many resorts and tourist activities on tropical islands provide snorkels, masks and flippers for guests, the quality can be pretty hit and miss. You don't want to get all the way out to the turtles or manta rays only to find your mask keeps filling with water. Buying a quality mask that fits correctly might be the single best thing you do while planning your trip.
There you have it, these are some of the most important (yet simple) things to pack for a holiday vacation on a tropical island. Of course, everyone's packing list will vary based on their personal preferences and the specific activities they have planned, but these items should cover the basics.
Now all that's left to do is pack your bags, board your flight, and get ready to enjoy the trip of a lifetime (hopefully coming to see us in beautiful Rarotonga). Happy travels!